Men, life is too hard to go it alone. You don't need to!  In growing numbers, men are coming together to talk about their faith, their lives, their futures, and how they can have an impact on their spheres of influence. If you're looking for laughter, honesty, enthusiasm, hope, or change, please attend a Grace Men event.
You will have a tremendous opportunity to build friendships, have some laughs, get at some real stuff, and connect your faith in your everyday life. Join us to go a step further in your life as a man.
Things aren't always as they appear! It can look one way at a distance, but the closer you get to what you are looking at, a totally different reality appears. The same is true for human encounters. Distance has a lot to do with perspective and understanding. The closer you get, the clearer one's understanding becomes. Over the centuries, countless declarations and conclusions have been espoused about Jesus. In listening to or reading many of them, it's clear that the "conclusion has come before the encounter." During the Spring Session, we want to unpack some "Real and Up Close Encounters" people had with Jesus that address many of the concerns we all face in life…..we might just meet a person we never met or thought we knew in a brand new way!

Not only will this be a time to learn more, but it will also be a time to connect with other men around things that matter. We hope you'll consider being part of this Spring Session of Ironmen.
Monday, April 10 – June 5
7:00 – 8:30 p.m. in the South Auditorium at GFC
Thursday, April 13 – June 1
6:15 – 7:45 a.m. in the South Auditorium at GFC
2023 Rockbridge Mens Retreat Weekend
We are thrilled to announce that the 2023 Rockbridge Men's Weekend will take place at Young Life's Rockbridge Alum Springs, outside of Lexington, Virginia, September 15-17, 2023! We look forward to a weekend full of great food, fun, encouragement, and fellowship!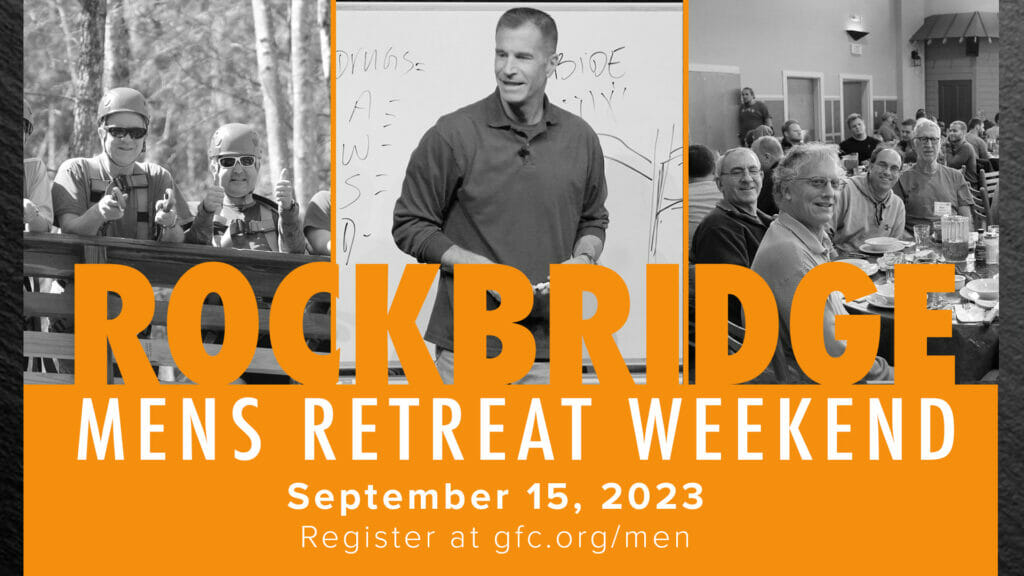 Often when we hear "The World" mentioned we think of the massive planet we inhabit floating around in space.  Or maybe you mentally go to some sci-fi movie dealing with aliens coming to planet earth to set up a new social order, or some crazed dictator using nuclear weapons potentially destroying "The World" as we know it.  But have you ever considered that "The World" is also multi-faceted in its meaning.  While it certainly describes the planet we inhabit, it also points to something much deeper and profound.  It speaks to the perspectives, mindsets, and behaviors that impact our daily lives in significant ways.  In fact, these perspectives and mindsets can be so subtle that over time we become numb to their influence upon us, and how we relate to one another. Often to our individual and collective detriment.
What if we could "pull back the curtain" on "The World" unpacking its various meanings so we could live on this planet more wisely with our eyes wide open? What if we could learn to better discern and see through the myriad of ideas we are confronted with daily? What if we could learn to engage in hard conversations better because we have eyes to see things we never saw before? What might it be like to "be in" the world, but just not "of it"?
This will be the focus of the Winter Session of Ironmen 2023! If you are looking for a safe place to connect with men who desire to share openly, push one another to grow, and challenge one another to be the best version of themselves this is for you.  The dates for the Winter session are as follows:
Monday, January 23 – March 13
7:00 – 8:30 p.m. in the South Auditorium at GFC
Thursday, January 26 – March 16
6:15 – 7:45 a.m. in the South Auditorium at GFC
If inclement weather impacts our regular meeting time, your table leader will notify you by email or phone. You can still participate using the Grace Men's zoom meeting below.
What men are saying about ironmen
Ironmen has been a game changer for me as a man. I was encouraged to join for years, but my work schedule never allowed it and even when that changed, I procrastinated.  Today, after three years of regularly attending Ironmen, I wish I'd started three years earlier….. I've been challenged, encouraged, humbled, built up, and grown tremendously as a result. What's more, I've met some great guys and really found a community of like-minded men that are all striving for the same thing; being better fathers, better husbands, better sons, better employees, better employers, better friends and better MEN.
Ironmen provides me a chance to study and discuss God's word with other men in a way that helps me better understand His desires for me.  I love how I am challenged each week to think deeply about how I am living my life and to do it better.  Through this program, my faith and relationship with The Lord have grown, and through His strength I am better able to support others.
By design, Ironmen provides a non-judgmental environment where we can confidently share our victories as well as challenges and struggles with one another and benefit from each other's insights and experience.  We all have those deep, probing life questions bouncing around in our hearts and minds.
Ironmen has meant so much to me. It has given me the opportunity to process things in my life that I would otherwise not have realized. I have grown as a man in my relationship with Christ more than I thought possible. Pat's teaching is the best of the best, and the relationships with guys at my table are indispensable to me.