Men, life is too hard to go it alone. You don't need to!  In growing numbers, men are coming together to talk about their faith, their lives, their futures, and how they can have an impact on their spheres of influence. If you're looking for laughter, honesty, enthusiasm, hope, or change, please attend a Grace Men event.
You will have a tremendous opportunity to build friendships, have some laughs, get at some real stuff, and connect your faith in your everyday life. Join us to go a step further in your life as a man.
Ironmen is our weekly gathering and has two options:
Monday Night: (7:00-8:30 p.m.)
Thursday Morning (6:15-7:45 a.m.)
Both groups cover the same material each session (fall, winter, and spring) and you may jump in to any session at any time. Registration is not required. Contact Pat Goodman for more information.
Winter Weather Advisory: Monday evening sessions will meet if the GFC building remains open and a decision is made by 3:00 p.m. Thursday morning sessions will be canceled if schools are late or closed. Check the website or send an email for an update.
Winter Ironmen Session 2020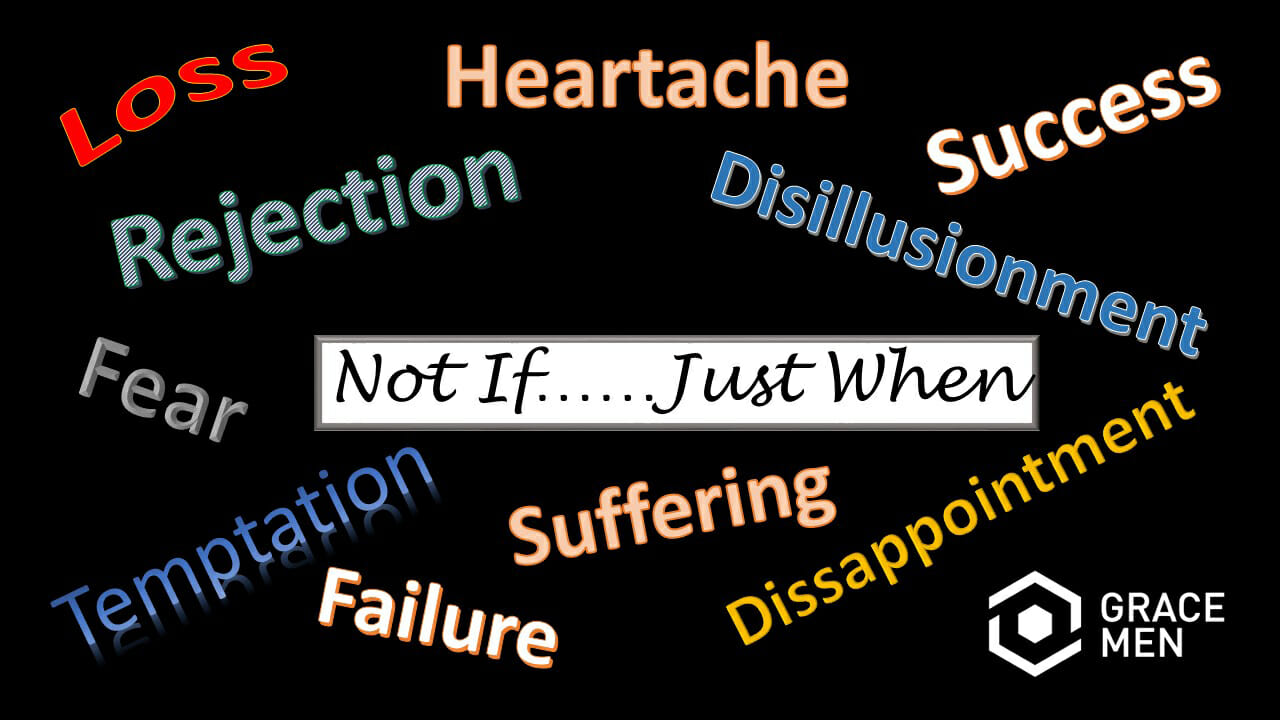 Not If...Just When
If you are up for the challenge and encouragement that can come from facing life's inevitable realties head on, then Ironmen's Winter 2020 Session is for you! Besides the encouragement you'll glean from what you learn, you'll also meet and connect with a number other men who want to do the same thing.
Monday Session starts January 13
Thursday Session starts January 16
What men are saying about ironmen
Ironmen has been a game changer for me as a man. I was encouraged to join for years, but my work schedule never allowed it and even when that changed, I procrastinated.  Today, after three years of regularly attending Ironmen, I wish I'd started three years earlier….. I've been challenged, encouraged, humbled, built up, and grown tremendously as a result. What's more, I've met some great guys and really found a community of like-minded men that are all striving for the same thing; being better fathers, better husbands, better sons, better employees, better employers, better friends and better MEN.
Ironmen provides me a chance to study and discuss God's word with other men in a way that helps me better understand His desires for me.  I love how I am challenged each week to think deeply about how I am living my life and to do it better.  Through this program, my faith and relationship with The Lord have grown, and through His strength I am better able to support others.
By design, Ironmen provides a non-judgmental environment where we can confidently share our victories as well as challenges and struggles with one another and benefit from each other's insights and experience.  We all have those deep, probing life questions bouncing around in our hearts and minds.
Ironmen has meant so much to me. It has given me the opportunity to process things in my life that I would otherwise not have realized. I have grown as a man in my relationship with Christ more than I thought possible. Pat's teaching is the best of the best, and the relationships with guys at my table are indispensable to me.