Grace Students is the name of our awesome middle and high school youth ministry (6th – 12th grade).
Our programming this year, and moving forward, is based on the ministry of Jesus.  First, He spent quality time with His disciples and others.  Building the relationship was of utmost importance.  Second, He always impacted the community around Him, right where He was.  Third, He drew large crowds and ministered to the needs of the people with love and truth. 
We are drawing from His example and created a program for your students that flows right from scripture.  Every month (with some exceptions) we will be following this structure:
New Families and Returning Families:
Make sure to register your students so you don't miss out on any upcoming gatherings, events, trips, or adventures we are planning for the summer.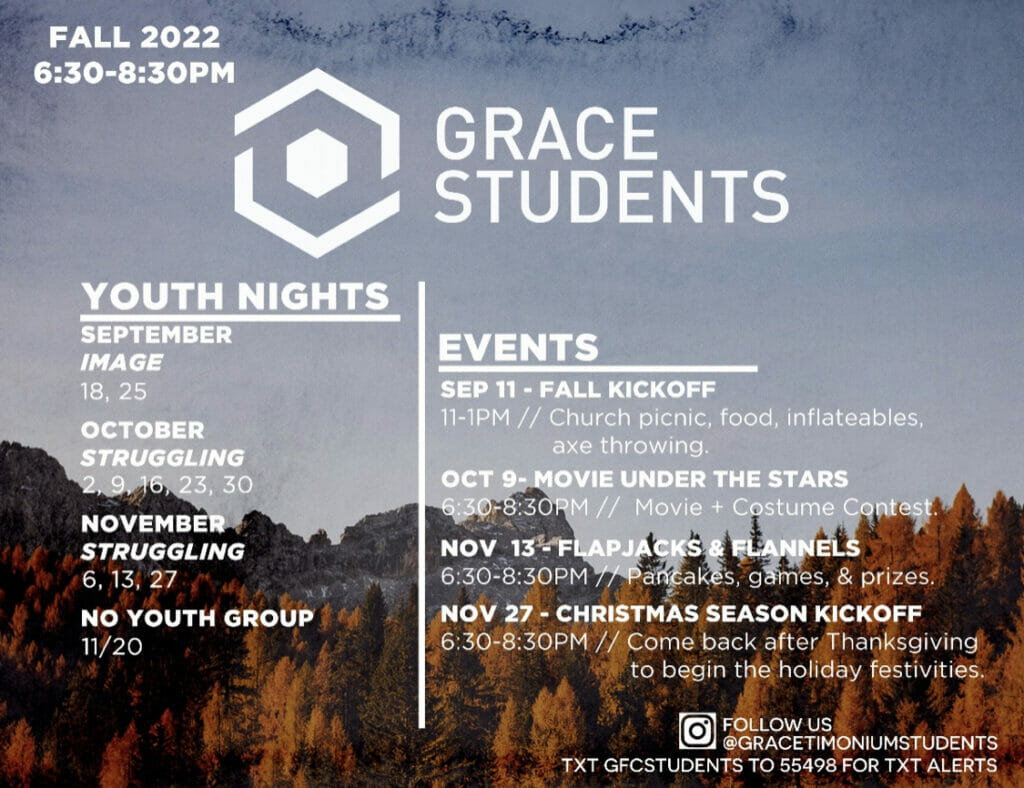 Our desire is to remove any barriers that prevent a student from having the opportunity to participate fully in our student ministry programs. Contact
disabilities@gfc.org
to learn more about how we can come alongside your student.
If you have additional questions or would like to sign up to serve in Grace Students, please email
students@gfc.org
for more information.
While our weekly programming has wrapped up for the 2020-21 school year, we are still intentionally connecting with students through for some fun, summer in-person gatherings, and through our social media platforms to build relationships, worship, pray, engage with biblical teaching, and have fun! Email students@gfc.org to get connected!
This summer is going to be great! We miss you already so don't' hesitate to jump right in. We want to hang out with you!
Starting July 11th, we invite students to connect with us and each other from 10:45am-11:15 a.m. (roughly the time between the 9:30 a.m. and 11:15 a.m. Sunday services) for some conversation and treats! Look for us near the GFC main entrance!
Grace Students is excited to provide a summer opportunity for current 5th and 6th graders to continue to gather in person until our full Grace Students program starts up again in the fall.
Here is what you need to know:
The "Summer Bridge" program is for current 5th and 6th graders (rising 6th & 7th graders for fall 2021). We will be gathering together at the

9:30 a.m. in-person service at GFC

for fun, fellowship, and time in God's Word.
Your first step, whether you are a new or returning family, is to complete the following Family Registration Form to ensure that Grace Students has your most updated contact information and the age, grade, and any medical needs for your student. This form only needs to be completed once.
Once the form is filled out, you will receive the link to register your 6th grader for in-person service in the confirmation message. Spaces are limited, so please register promptly. You can bookmark this link to register your 6th grader week to week for in-person service. Registration opens weekly on Wednesdays at noon.
Classroom grade promotion on September 12:
As your students have wrapped up their final weeks of school and are anticipating the transition to their next grade in fall, we wanted to let you know that we will promote all students to their next grade classroom on September 12 (more information to follow). Until then, we will continue to use your student's current (2020-21 academic year) grade. Do not hesitate to let us know about any special circumstances related to your child's grade by emailing students@gfc.org.
Current Grace Students COVID Guidelines for classrooms:
Masks are required to be worn by all 6th grade students.
Our classroom capacity limits are set using the CDC's guidelines for kids in Middle School.
Hand sanitizer is available throughout our classrooms and hallway.
Students will have access to individual supply bags for classroom activities as needed.